Amenities such as cable television, linens and towels, telephone and attic fans are included as well. Grills are handy for the expert, or future expert, grill master. All the things anyone needs to feel at home are all right here, so that you can fully enjoy your vacation. In the summer enjoy the convenience of air-conditioning. Free wireless Internet access.
​
Fully equipped kitchens are bright and sunny with plenty of cabinet space and floor space. Open and inviting, the imagination will come up with lots of different items and plenty of places to put them with all the counter top space that is available. All the amenities are provided. Washer and dryer units in each cabin, along with ranges, full refrigerators, cookware, utensils, microwaves, toaster ovens, and coffee makers.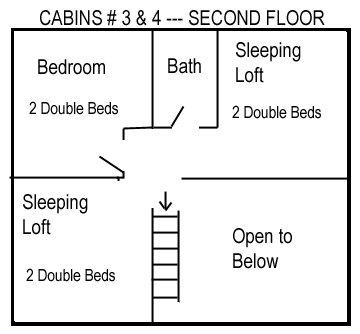 2 bedrooms downstairs with 1 queen bed in each. One bath downstairs, a kitchen, dining and livingroom. Upstairs provide 1 bedroom with 2 double beds, 2 loft areas with 2 double beds each and 1 bathroom.
Log Cabin 3
Living and Kitchen and First Floor Bath